According to the National Safety Council, falls are responsible for about a third of all preventable non-fatal injuries in the U.S. and resulted in over 20 million injuries in 2020. While not fatal, these accidents often result in serious injury, leaving long-lasting consequences for the person suffering and often their loved ones, too.
If you've suffered an injury because you slipped and fell due to someone else's negligence, you deserve compensation to pay for your medical expenses, lost wages, pain and suffering, and other losses you endured due to the accident.
Learn what a Michigan slip-and-fall accident lawyer does and how they can help you on the path to recovery. Call the caring and compassionate legal team at Matz Injury Law. You can reach our Southfield personal injury law firm by calling 1-866-22Not33.
What is a Slip-and-Fall Lawyer?
A slip-and-fall lawyer is a type of personal injury attorney who will help, advocate, and represent you after you suffer injury from a fall on someone else's property or lost a loved one due to a fall on another's property. Michigan fall attorneys have experience in premises liability and possess specific knowledge about how to identify potential at-fault parties, both of which are important in this type of injury case.
If you or a family member suffers a fall, it is a good idea to obtain a free consultation with a Michigan slip-and-fall accident attorney. You will want to know your options since not all injuries are fully known immediately after the accident. For instance, the full extent of traumatic brain injuries takes longer to emerge, but even injuries, such as broken bones or soft tissue trauma, may not show swelling in the immediate aftermath.
A knowledgeable slip-and-fall lawyer will provide sound legal advice and will outline your options while taking into consideration the timeline imposed by Michigan's statute of limitations.
What to Do After a Slip-and-Fall Accident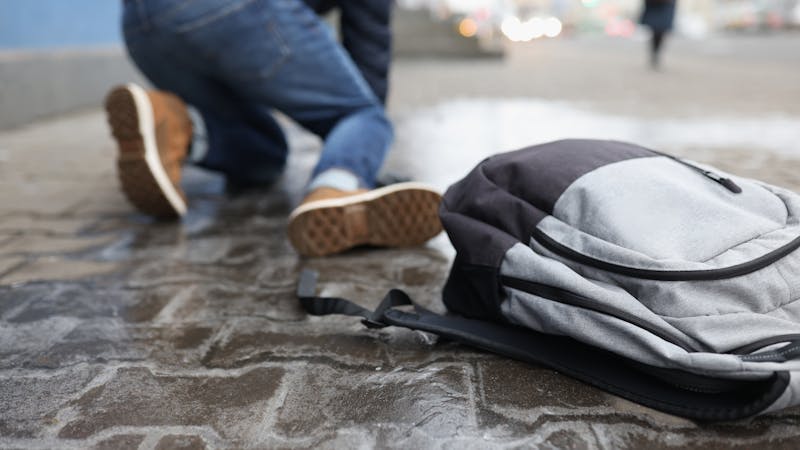 Immediately after a slip-and-fall accident, you want to take certain steps. Doing so preserves your safety and well-being while also maintaining the validity of any potential future legal action. Be sure to take the following steps.
1. Seek Treatment
See a medical provider right away, even if you feel fine. Many injuries are "hidden" but very serious. Be honest about your symptoms, do not try to shake off any potential injuries. Give your healthcare provider detailed information about your fall so details go into their documentation. Additionally, be sure to follow all doctor's orders, including a treatment plan, and make appointments for any diagnostic tests ordered. Ask for and keep a copy of all medical records.
2. Fill Out an Incident Report
Be sure to give a detailed account so no one can try to dispute what happened later. How you file depends upon the type of property you were at when you fell. Take a photograph of your completed report to prove you filed the paperwork if it goes missing or the defendant says you did not file one.
3. Document the Injury
Take photos of the hazardous conditions that led to your fall, along with any apparent injuries. If unable to do so, ask an eyewitness or another person to do it for you. Evidence tends to disappear after an accident, so the quicker this can be done, the better.
4. Write Down Events
Keep a journal of everything you can remember while it is still clear in your mind. Even little details regarding dangerous conditions at the property may prove to be very important down the road.
5. Obtain Eyewitness Information
If anyone saw what happened to you, ask them for their name and contact information. Witness testimony will prove to be important evidence later on if you need to go to court.
6. Call a Michigan Slip-and-Fall Lawyer
As soon as possible, call a skilled lawyer to discuss your accident. Your attorney can support you and serve as a go-between with insurance companies that will undoubtedly look to devalue your personal injury lawsuit or have it dismissed. Also, do not sign anything or discuss the fall with the property owner or their insurance company. Speak to an attorney first.
When to Contact a Personal Injury Attorney After a Slip-and-Fall Accident
Once you see a doctor and ensure you do not need additional emergency treatment, contact an attorney as soon as possible. You can be confident the property owner will contact their insurance company or an attorney to protect themselves against any injury liability and financial responsibility. Your injury attorney will sit down with you, get your side of the story, investigate the fall, and gather evidence to build a solid case.
Another benefit of hiring an attorney is the ability to refer the at-fault party's insurance company or attorney to your own legal representation to answer questions or give information. This is a highly encouraged method to protect yourself against low settlement offers or accidentally saying something that could harm your case.
Ways a Michigan Slip-and-Fall Attorney Can Help With Your Slip-and-Fall Case
Working with a Michigan slip-and-fall attorney improves your chances of obtaining compensation to cover the cost of your medical bills, replace lost wages, and make up for other damages you sustained due to the negligence of the property owner. Your attorney will meticulously gather the evidence necessary to establish a strong legal case. Obtaining legal representation also ensures other important steps are taken. Your law firm will:
1. Send a "Preservation" Letter
This letter goes to the negligent property owner(s) to prevent them from destroying essential evidence necessary to prove your claim.
2. Establish Liability
The central component of a Michigan premises liability case is to establish negligence, and doing so is one of the most important services your attorney provides. Essentially, you will have to prove the property owner or other at-fault party breached their duty of care to provide a safe environment and acted with carelessness, leading to your injury.
Another important factor is where you fell and sustained injury. Liability is largely based on circumstances surrounding the fall and the location where you fell. If you fell on government property, your attorney will have to approach the case differently than they would with incidents occurring on private property.
3. Preserve and Assemble Evidence
Your attorney will identify and gather vital evidence relevant to your case. This usually includes photos, video, medical reports, eyewitness statements, surveillance camera footage, and other details supporting your claim. Chances are your lawyer will also hire an individual who can provide expert witness testimony. Other evidence includes gathering incident reports and maintenance records from the property owner to determine if any other previous injury reports are on record that show a pattern of negligence.
4. Negotiate a More Favorable Settlement
Insurance adjusters do whatever they can to belittle victim injuries, but having an attorney at your side does not just protect your rights but also increases the probability you will collect fair compensation.
While it is impossible to determine a case's worth immediately, as the results of your medical tests, physical condition, and other issues become clearer, your injury attorney will look at your damages to determine a fair amount of compensation.
5. Represent You in Court if Needed
If the insurance company insists on lowballing or disputing your claim, your lawyer will represent you in court. According to statistics, having a lawyer by your side results in the most compensation when compared to plaintiffs who do not hire an attorney. Martindale-Nolo reports that 91% of plaintiffs receive compensation with an attorney, while only 51% receive it with no legal representation.
Furthermore, the amount an injured person receives is far more when an attorney does the negotiating. The statistics showed those with an attorney at their side walked away with an average of $77,600 in compensation, whereas those without received about $17,600. Compensation for each case is a very individual thing, but these averages speak volumes about the validity and benefit of working with a skilled Michigan personal injury attorney.
How Long Do You Have to Report a Slip-and-Fall in Michigan?
The State of Michigan imposes a three-year statute of limitations on personal injury cases, which includes slip-and-fall accidents. This means the "clock" starts "ticking" at the time of the accident for most accident cases. In cases of wrongful death, the three-year period of time begins on the date the victim succumbed to their injuries.
While three years sounds like plenty of time, it really is not. It is in your best interest to begin putting together a case as soon as possible. In some cases, you may have less than three years. A good example is if the accident occurred on government or municipal property.
Additionally, there are some exceptions to the three-year rule. It is important to speak with an experienced Michigan injury attorney because the circumstances surrounding your case may warrant additional time to file. Common exceptions include if the victim has a mental health condition, if they were a minor when hurt, or if the property owner is non-reachable for an extended period of time. Even if you think you missed the deadline, always consult with a lawyer.
How Long Does a Slip-and-Fall Injury Case Take to Settle?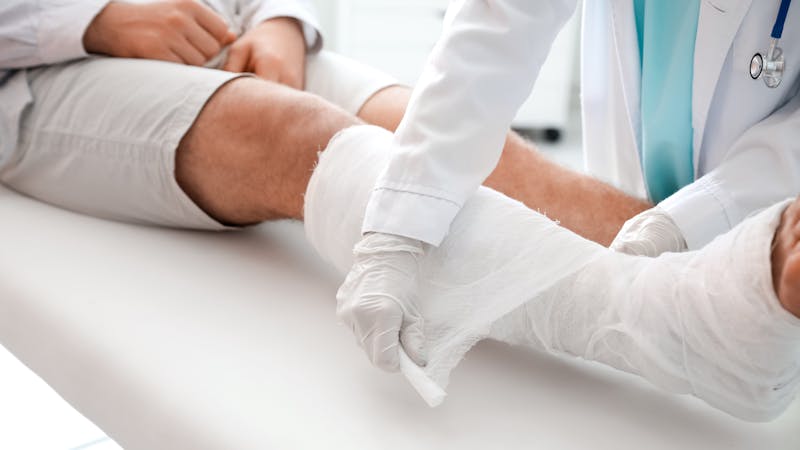 It is difficult to predict how long it will take for your slip-and-fall injury case to reach a conclusion. Since the circumstances and individuals involved differ from case to case, giving a firm answer is impossible. However, generally speaking, you can expect a conclusion within one to two years if your case does not settle early out of court.
What is the Average Slip-and-Fall Lawsuit Settlement in Michigan?
Much like the time factor involved with settling a case, there is no firm answer to provide when it comes to the amount of compensation. Every case is different, depending on the circumstances surrounding the accident.
Michigan has a comparative negligence rule. This means the defendant can try to claim the plaintiff's injury was because of their own actions. So, under this rule, if you are found to be more than 50% at fault for your fall, you lose the ability to file for pain and suffering and reduce the amount of compensation you can receive for your medical bills and lost wages.
However, if you can demonstrate the fault of the property owner, along with demonstrating a clear injury, you are eligible to pursue compensation to cover your tangible monetary losses, along with non-economic damages, which include things like pain and suffering and other losses/damages that are difficult to assign an exact price.
Generally speaking, the more serious your injury, the more money your case will be worth.
How Much Will a Michigan Slip-and-Fall Lawyer Cost?
By law, personal injury firms can collect 33 ⅓%, and most do charge this amount. You will not find this with Matz Injury Law. When you choose to work with us, you will keep more money since our law firm charges just 22%.
What Are the Benefits of Having a Slip-and Fall-Lawyer?
Working with a slip-and-fall attorney offers you many benefits throughout the course of your injury claim. Premises law can be overwhelmingly complex, and your legal representation will understand all the necessary elements to prove a slip-and-fall case. They will also make certain your case is in good order, along with calculating an appropriate amount and then fighting for it.
Does an Attorney Help Collect Evidence?
Your attorney will not only collect evidence and solidify a strong case; they will be your advocate and take action based on what is in the best interest of you and your loved ones. You do not have to bear the burden and stress of talking to pushy insurance companies that do not care about your well-being. Instead, you can focus on your healing.
Bottom line, your experienced slip-and-fall attorney will work hard to preserve the integrity of your case so you receive a fair settlement for your suffering.
What to Look For in a Michigan Slip-and-Fall Law Firm
When seeking representation for your fall incident, you will want to find a law firm possessing the following attributes:
Works on a contingency fee basis – if you do not get compensation, they do not get paid
Possesses a history of successful settlements AND success at trial
Is caring, compassionate, and responsive
Why Work With Matz Injury Law
At Matz Injury Law, a partner will always handle your fall claim, and we will not limit you as to when and how often you can speak with your attorney. We have successfully fought for Michigan's injured for decades, recovering over $300 million dollars for our clients.
Recent Settlements From Our Firm
$4.15 Million Settlement in Washtenaw County
$3.45 Million Settlement In Genesee County
$1.74 Million Settlement Awarded In Calhoun County Collision
Other recent settlements from our firm
Testimonial
Our clients love working with us due to the deep level of care and compassion our firm offers. Just see the testimonial from a satisfied client below.
"I worked with Steve and his staff for almost 3 years. Every interaction I had with him or the staff was great.  Always happy, very personable, and always pleasant to speak with. Steve goes above and beyond for his clients and for this I am very grateful to have worked with him. If ever in need again, he will be who I contact to represent me." -Jessica D.
A Helping Hand After Your Fall
If you experienced injury due to a fall, contact the compassionate and caring attorneys at Matz Injury Law. The attorney-client relationship is very important to us. We will listen to your side of the story and advocate for your best interests. Call our Michigan personal injury lawyers today. Our phone number is 1-866-22Not33. You can also fill out our online contact form to schedule a free case evaluation.