If you have been a passenger in a vehicle involved in a drunk driving accident, you are likely facing significant challenges, both emotionally and financially. Physical injuries may require ongoing medical attention, generating substantial medical bills.
Emotional trauma can further complicate the situation, making it difficult to resume a normal life. As expenses accumulate, insurance companies typically offer settlements that are insufficient to cover both immediate and future costs, creating financial burdens on people who are already suffering so much.
Under these circumstances, retaining a Michigan DUI attorney is crucial. Drunk driving cases are complex, and insurers are skilled at reducing their insurance coverage liability through various legal loopholes. An experienced Michigan DUI accident attorney at Matz Injury Law can help you navigate the complexities of the law, advocating for the compensation to which you may be entitled.
The level of legal support our law firm can offer allows you to focus on your recovery rather than the intricacies of the legal system. While you may not have had a choice in becoming a victim, you do have a choice in how you handle the aftermath. Strong legal representation can be instrumental in shifting the balance from victimhood to recovery. To learn more about how a Michigan car accident attorney can help, contact Matz Injury Law today at 1-866-22Not33 to receive a free consultation on your Michigan car accident case.
What Happens if You Are Injured as a Passenger in a Car Accident in Michigan?
Like any other motor vehicle accident, passengers involved in Michigan drunk driving collisions will always want to seek medical attention as soon as possible. You should do this, even if you do not feel any pain, because you may have hidden injuries that are not initially apparent. As an injured passenger in a Michigan car accident, there are a few important things you need to know.
Potential Passenger Blame for a Portion of the Crash
Aside from obtaining treatment from a medical provider, you will want to document the accident as much as you possibly can. If you were a passenger in a car with an intoxicated driver, you will need to be prepared to explain why you got into the vehicle knowing the driver was drinking. In the event you are involved in a crash where the other car's motorist was the intoxicated party driving over the legal limit for BAC, it is a good idea to attempt to find out where they had been coming from or where they had been drinking in the timeframe before the accident. Every bit of documentation you can obtain may strengthen your case against the at-fault party.
Pursuing Exemplary Damages
From a legal perspective, one thing you can do as an injured victim is to seek mental health treatment if you are particularly bothered by the fact a person chose to get behind the wheel after drinking and cause injury to you. This could help bolster your personal injury claim and open the door to exemplary damages to help compensate for things such as pain and suffering. Since Michigan does not have punitive damages, demonstrating exemplary damages is the only way to pursue compensation above actual physical injuries.
Obtaining Compensation in Michigan Car Accidents is Complex
As an injury victim in a Michigan car accident, you are entitled to specific benefits, including PIP. These include payments of medical bills, monies to help pay for help around the house if a doctor indicates necessity, nurse's aide services, and other accident-related expenses. This seems straightforward, but navigating through what is called the "order of priority" makes it more complex than other states.
To pursue additional compensation, you must be less than 50% at fault for the crash and meet a specific threshold for your injury. We'll dig a little more into the insurance policy aspect of how it works in Michigan in the below sections.
Are Passengers Covered by Car Insurance in Michigan?
Being that Michigan is a no-fault insurance state, if you suffer injury in a DUI accident, your own insurance is the first priority. Your PIP benefits outlined in your policy likely will have limitations, so you must find out what these are if you sustain injury in the collision. Speaking to an experienced Michigan personal injury lawyer can help you work through the complexity of Michigan's insurance laws.
What Happens if I Am an Injured Passenger in Michigan Without Insurance?
Michigan law regarding accident claims is difficult to navigate and goes by the aforementioned order of priority when filing a claim. How this works is you first must attempt to collect from your own automobile policy's no-fault benefits. If you are uninsured, you file under your spouse's policy. The third level of priority is to file a claim under the policy of another relative who lives with you.
Regardless of priority, you must file within one year of the date of the crash. There are other ways you can file a claim in Michigan, such as Michigan's Assigned Claims Plan (MACP). We recommend you consult with an experienced car accident lawyer to discuss this and other potential courses of action you can take.
Types of Injuries Passengers Are Likely to Sustain in a Drunk Driving Accident?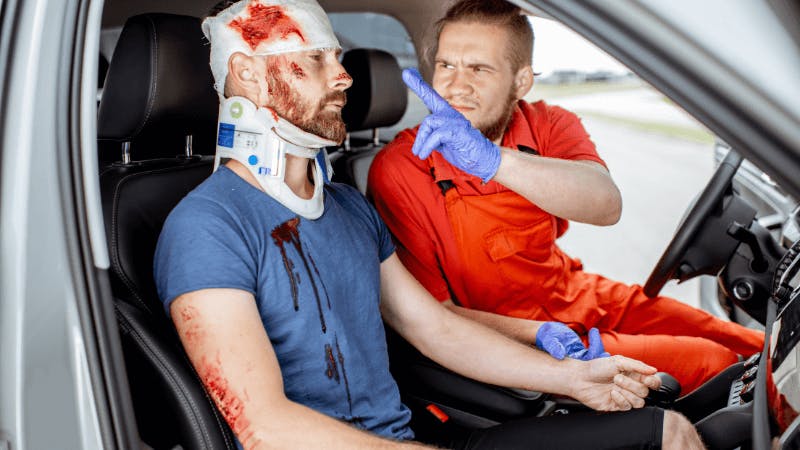 As a passenger involved in a serious car accident, it is likely you will receive some level of injury. Common types of injuries passengers in car accidents sustain include:
Soft Tissue
Soft tissue injuries are tricky since symptoms may not immediately surface, but the injury reveals itself over time. Pain can occur due to soft injuries, including strains, sprains, and tears. They may affect ligaments, muscles, and tendons, often impacting certain nerves in the body as well.
Neck Injury
Even minor car accidents can lead to severe neck injuries. Common injuries that affect the neck include whiplash, pinched nerves, neck spasms, fractures, compressions, cervical spondylolisthesis, herniated discs, slipped discs, stiff muscles and tendons, and numbness.
Back Injury
The human back is susceptible to many different types of injuries. Common injuries passengers are likely to sustain in a car crash include injuries to the lumbar spine and thoracic spine. Other problematic back issues can include spondylolisthesis, herniated discs, back strain, and discogenic pain. Over time, Michigan car accident victims may also develop one or more degenerative spinal disorders.
Wrongful Death
Tragically, DUI drivers in Michigan often cause wrongful death. Getting behind the wheel after drinking too much alcohol is irresponsible, negligent, and against the law.  Losing a life in this way is totally preventable and causes unfathomable pain for the loved ones left behind.
Broken Bones
Broken bones are also common in Michigan car accidents. Susceptible body parts include the legs, arms, wrists, ribs, and back, to name just a few areas where breaks and fractures in bones tend to occur.
Traumatic Brain Injury (TBI) and Spinal Cord Injury
TBIs and spinal cord injuries are serious injuries that cause permanent injury or disability to injured victims. These injuries not only affect the victims but also their family members since these types of injuries have a significant impact on a person's physical and/or mental abilities.
Injuries suffered in a Michigan drunk driving accident sadly create many medical complications and cause adverse effects in a victim's day-to-day life.
Can the Passenger of a Drunk Driving Accident Sue in Michigan?
Accident laws in Michigan are complex, but yes, as a passenger, you may be able to sue the drunk driver who caused your accident and is responsible for your injuries. Responsible parties aside from the drunk driver may include the owner of the vehicle, employer of the driver (e.g., you are in a taxi where the driver had been drinking), or bar/other entity under dram shop law. Damages you can potentially sue for include:
Pain and suffering
Excess medical and wage loss benefits over your no-fault personal injury protection (PIP) cap
Unpaid and overdue no-fault benefits
Some of these damages will be filed against the at-fault driver and/or other responsible party, but others will be directed toward the responsible insurance company. Your Michigan car accident attorney can help you with the difficulties associated with filing a car accident-related lawsuit. You must be able to prove you suffered serious impairment of body function.
What is the Statute of Limitations for Suing a Drunk Driver in Michigan?
Michigan sets a three-year statute of limitations for injured victims of drunk driving accidents to file a lawsuit against the liable driver. It is important to try to file as soon as possible after the crash because three years is not as long as it seems. It takes time to gather evidence and assemble a strong case to hold the at-fault driver responsible for their negligent actions.
What You Should Know About Michigan's Comparative Fault Law 
Michigan has what is called "comparative fault law." Under this legal structure, the fault of an accident can be split up and does not have to be considered "equal." Essentially, this law recognizes more than one person may be to blame for injuries.
For instance, if you knew the driver had too much to drink and chose to get into the vehicle anyway, you can be assigned responsibility for your own injuries. Another example is if you had supplied the alcoholic drinks to the driver, a court may find you liable in this scenario. If you had no knowledge of drinking, you probably would not be assigned any percentage of blame.
In other words, if you were the passenger of the drunk driver, there is potential for you to be held partially at fault for your own injuries if you had any knowledge of drinking. This means if you are found to hold more than 50% liability for the drunk driving accident, you cannot pursue a case against the driver.
This area of Michigan law can be quite complex. We recommend you seek legal services to help in your Michigan car accident case.
Can I Receive Compensation For My Injuries as a Passenger in a Michigan Car Accident?
As a passenger who suffers injury in a car crash, you may be able to recover damages from the liable parties. This option will largely depend upon the severity of injuries you suffer from that are directly related to the crash.
Medical Expenses
You are entitled to pursue compensation to cover medical expenses you incur as a result of the car accident. Examples include but are not limited to costs associated with doctor's offices, hospitals, rehab centers, any therapies, medications, and travel to and from locations where you receive healthcare services to help you recover from your injuries.
Lost Wages
If you are injured in an accident caused by a drunk driver, you may no longer be able to work in the capacity you used to, or you may need a long period of recovery. Wage replacement compensation can be pursued to help you replace your lost paychecks.
It is important to understand that you cannot just pursue compensation from the at-fault party. Michigan's no-fault benefits are the first avenue to pursue money to cover the cost of your injuries, then you can look toward other avenues of compensation.
What Does a Settlement Payout Look Like in Michigan?
If a drunk driver injures you, your potential compensation will depend on several factors. A monetary value will not be automatically assigned to your case. The following factors are looked at when determining the value of damages and losses.
Severity of the injury
Long-term effect
Medical expenses
Lost wages due to injury
Essentially, each case is unique, so there is no one-size-fits-all answer to what a settlement payout looks like in Michigan. You can schedule a free consultation with our legal partners to get a better idea about your specific case.
Do You Need an Attorney After Being Hit By a Drunk Driver?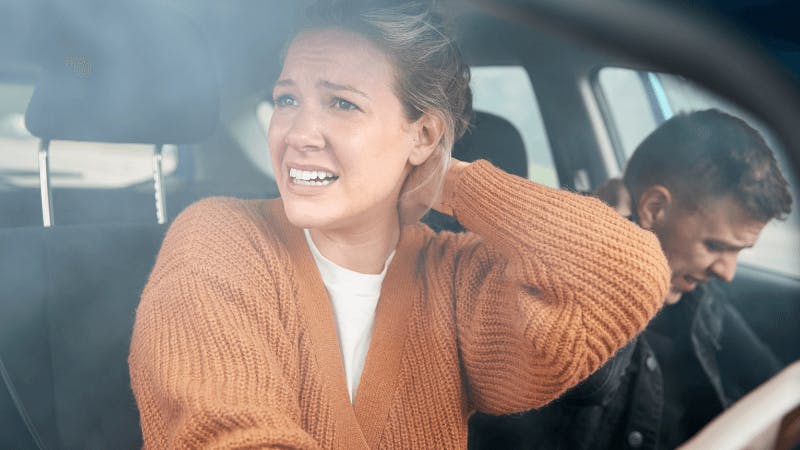 Passengers who are involved in drunk driving accidents often find the legal aftermath of a crash to be full of complications. This is aside from the criminal aspect involving blood alcohol content and any traffic violations. Working with an attorney who can investigate and analyze the case to protect your best interests is essential.
The Michigan personal injury attorneys at Matz Injury Law can help clear up any confusion and educate you regarding your rights. Our knowledgeable lawyers are well-versed in Michigan accident law and can negotiate on your behalf.
We will also handle communications and any negotiations with the insurance companies regarding injuries and property damage. Chances are the insurance company may not want to provide you with compensation and will do everything they can to either avoid paying you or, if they must, offer you an unfairly low settlement.
Let Us Take the Wheel of Your Case
If you or a family member were a passenger in a drunk driving case, the attorneys at Matz Injury Law want to help. Protecting the rights of injured persons in Michigan is very important to our family-owned and operated law firm. We care deeply about our community and understand the fear and trauma you might be facing after your auto accident.
Matz Injury Law promises to diligently investigate your case. Your accident lawyer will provide you with sound legal advice based on their findings. Unlike insurance companies, we work for you and will always keep your best interests as a priority. Building a strong attorney-client relationship is a top priority for us, and we will work hard to see that as an injured person, you get the care and compensation you need.
To obtain a free consultation on your injury case, call Matz Injury Law at 1-866-22Not33 or fill out our online contact form. We proudly serve Ann Arbor, Grand Rapids, Lansing, and the rest of Michigan.